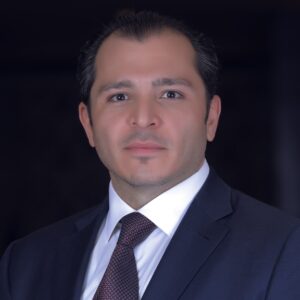 Wadie Habboush is an international investor and asset manager specializing in special situation asset acquisitions in the energy, infrastructure, and technology space with experience investing in Europe, North America, Latin America and the Middle East.
For more than a decade, Mr. Habboush has actively engaged in growing the asset management business, partnering with leading multinational corporations and financial institutions in acquiring and operating assets globally.
Mr. Habboush managed Goldman Sachs' Special Situations Group's on-balance sheet investments with operating management coverage over the firm's international power asset portfolio.  He led HG in its strategic operating partnership with Goldman Sachs with daily responsibilities that included corporate management, development and execution, portfolio operations, operational management, and exit management.
Mr. Habboush has also served as Chairman of the joint-venture company between Halliburton and HG focusing on alternative asset investments and development.  He has also served as Chairman of the joint-venture company between the Fluor Corporation and HG which focused on developing power, infrastructure and industrial assets in the EMEA region.  Over fifteen years, Mr. Habboush has actively and strategically invested in smart technologies and renewable energy opportunities with a focus towards ESG and decarbonization drivers.
Earlier in his career, Mr. Habboush practiced corporate law at the London, New York and Washington offices of Kirkland & Ellis LLP.  As a member of the firm's corporate practice, Mr. Habboush represented both private and public companies, institutional investors and private equity funds.  His practice focused on fund formations, structuring, financing and negotiating complex corporate transactions, with an emphasis on mergers and acquisitions, leveraged buyouts and equity offerings.
Mr. Habboush serves as an Investment & Operating Partner to I Squared Capital's InfraTech Fund.  He is an investor and supporter of initiatives that broaden energy and infrastructure capabilities via emergence of new technologies integrating social infrastructure for a more environmentally-friendly world.
Mr. Habboush holds a Juris Doctorate from Georgetown University and a B.S. (magna cum laude) in Accountancy from the American University's Kogod School of Business (Phi Beta Kappa).  He is a member of the District of Columbia Bar.